South Asia's largest tyre manufacturing plant opened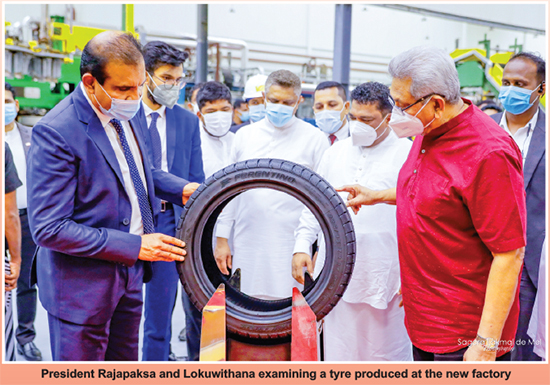 Published on January 15, 2021 – The Island
South Asia's largest manufacturing facility for tyres and radials, Ferentino Tyre Corporation (Pvt) Limited, was opened by President Gotabaya Rajapaksa yesterday (14).
Ferentino Chairman Nandana Lokuwithana said at the opening of the US$ 250 million tyre factory in Wagawatte yesterday that he had been continuously motivated by President Gotabaya Rajapaksa to start the plant without any delay.
"The President not only stressed the need to start the factory but also mobilised and provided all the support the government institutions including the Board of Investments (BoI) can for getting all the infrastructure and other operational aspects in place to ensure its commencement."
Lokuwithana said that the local manufacturers and entrepreneurs were encouraged by the President's vision to boost domestic production of goods for the local market and export market. "We believe we can rely on the government's support in the future too," he said.
The opening ceremony was also attended by Minister of Industries Wimal Weerawansa and Minister of Ports and Shipping Rohitha Abeygunwardena. The facility constructed with an investment of USD 250 Mn is the brainchild of reputed entrepreneur Nandana Lokuwithana who currently holds Chairmanship of Ceylon Steel Corporation (Pvt) Ltd.
The project is tipped to be the largest such facility in the whole of Southeast Asia manufacturing Passenger Car Radials (PCR) including specialized category for SUVs, two-wheelers, three-wheelers, trucks, buses and solid tyres seamlessly combining local talent with sophisticated European technology.
The new manufacturing plant combines state-of-the-art European technology in tyre manufacturing with local craftsmanship for an optimum, world-class output. The project is facilitated by the Board of Investment of Sri Lanka (BOI) and aims to generate a substantial amount employment opportunities directly and indirectly.
Ferentino Tyres will use locally sourced rubber as a main ingredient thereby compelling the local industry to level itself to deliver to the global expectation. The Phase 1 of the project has already been completed and thus was commissioned while construction of Phase 2 is scheduled to be completed in March 2022.
Lokuwithana also heads the Ceylon Steel Corporation Ltd and Onyx Group in the UAE with a host of subsidiaries including a steel fabrication company. His other investments include: Marriot Al Jadaf Hotel in Dubai, up-coming state-of-the art Cement Grinding Plant in Mirijjawila Hambantota slated to be commissioned in May 2021 and Marangoni Industrial Tyres Lanka (Pvt) Ltd.