Launch of Sri Lanka National Arbitration Centre: Expedited arbitration framework will help project Sri Lanka as a secure destination for FDIs, says BOI DG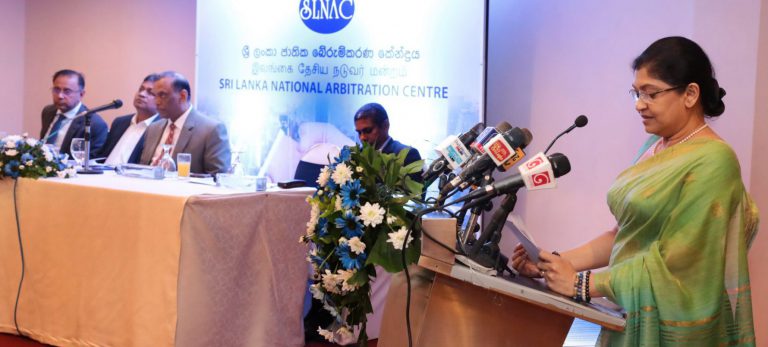 The official launch of the Sri Lanka National Arbitration Centre (SLNAC) Expedited Arbitration Rules, was inaugurated yesterday (31) at the Galadari Hotel, Colombo under the patronage of the Board of Investment (BOI) Director General Renuka M Weerakone and in the presence of Life Members of the Centre Dr. Romesh de Silva- President's Counsel, Mr. Hiran de Alwis, Attorney-at-Law, Other Members of the Board of Governors of the Centre, and other distinguished invitees.
Ms Weerakone addressing the gathering expressed her sincere appreciation for inviting her to be the Guest of Honour, representing the BOI, as its Director General, at the launch of the SLNAC Expedited Arbitration Rules where she articulated the mandatory need to upskill arbitrators with expertise in the context of technological advancement. 
The full speech delivered by the Director General is as follows,
Over the last few decades, Alternate Dispute Resolution (ADR) has gained momentum and relevance for dispute resolution globally, among States, multinational corporations, non-governmental organizations and civil societies.  Arbitration is more popular to resolve commercial disputes due to its user-friendly processes, cost and time-effective means, and ease of access. It further contributes towards reducing the political risk of foreign investment, lowers the risk premium connected to it, and makes the investment climate more viable.
However, over the years arbitration has faced criticisms from varying stakeholders – both State parties and private entities alike- for various reasons including the duration and cost of investment arbitrations, enforcement of arbitral awards, success rate, lack of consistency and predictability between cases, differences among various institutional and ad-hoc arbitration rules, etc. This has led to the reform of international rules pertaining to arbitration, introducing dynamic changes to both procedural and administrative rules, and adopting digitization to arbitral proceedings. Among these reforms, are the UNCITRAL Expedited Arbitration Rules of 2021, which has helped to streamline and simplify arbitration proceedings while shortening the time frame.  Based on this, the Sri Lanka National Arbitration Centre (SLNAC) has adopted its Expedited Arbitration Rules, which is being launched today.
The Sri Lanka National Arbitration Centre (SLNAC), established in 1985, is the oldest institution in the country for the administration of Commercial Arbitrations. The Centre, envisions to expeditiously resolve commercial disputes by facilitating private and international commercial disputes.  The diverse and exemplary panel of arbitrators and the Board of Governors of the SLNAC are an asset to the Centre in carrying out its functions in a commendable manner. This timely initiative symbolizes a progressive step taken towards aligning our national laws with international practices
  As the national investment promotion agency, it is BOI's responsibility to facilitate the investor sentiment and create a conducive investment environment to do business, which is a fundamental requirement for FDI attraction. The absence of clearly defined procedural means to resolve commercial disputes, could lead to a lack of confidence among investors to commit themselves commercially in a foreign territory. As such, a clearly developed arbitration framework will help to project Sri Lanka as a secure destination for foreign direct investment.
Since the inception of international investment law, transparent and established means of dispute resolution has played a key role to ensure that host countries do not breach their host state obligations towards investors, as well as for investors to comply with contractual obligations. Thus, investor-State arbitration is an institution worth preserving as it serves as an accountability mechanism for host government conduct, that embodies and implements the rule of law without requiring strong and multilateral political institutions as a counterweight.
The BOI, is vested with powers to enter into Investment Agreements with Companies to set up foreign investment Projects in terms of Section 17 of the Board of Investment Law. The inclusion of an Arbitration Clause has always been an integral provision of our Investment Agreements, wherein arbitration is mandatory as a key dispute resolution mechanism.
We have witnessed recent global trends, in incorporating investor-state dispute resolution in bilateral, multilateral and regional investment agreements, to boost investor confidence and security, and for Sri Lanka, this is further enhanced by virtue of Article 157 of the Constitution which gives a Constitutional guarantee for foreign investments. Therefore, it is pertinent that the framework governing arbitration expounded by Sri Lanka is clear, and well defined. 
While recognizing the newly expedited rules, we must also take a proactive stance to capitalize these expedited rules. For instance, Sri Lanka is ranked best among the equals ranking within emerging top ten destinations for BPOs and
KPOs. Further, we have a heritage of 4 decades of service tech giants in the US and UK for different technology verticals such as health care, insurance, banking
and finance, and life science. The advent of industry 4.0 and BOI's new strategic initiatives are further geared towards attracting AI, cybertechnology manufacturing, big data, integrated technology, and Internet of things-based HI-TECH manufacturing. Hence, there is also a mandatory need to upskill arbitrators with expertise in the context of technology advancement. 
The BOI has closely engaged with the SLNAC since 1998, with several of BOI arbitrations being held at the Centre and wish to recognize the professional services provided by the Centre over the years. It is admirable that the Centre aspires to facilitate both local and international Arbitrations, adopting international best practices, under the due process of law. We believe, these expedited rules will bring about a positive change, not only for investor – state arbitrations, but to Sri Lanka in general.
Thank you once again for this opportunity to speak at the launch of this momentous occasion and I sincerely believe that this initiative would contribute towards building a better investment eco system in the country.
Media & Publicity Department
Board of Investment of Sri Lanka