Products of HDDES further diversify BOI export basket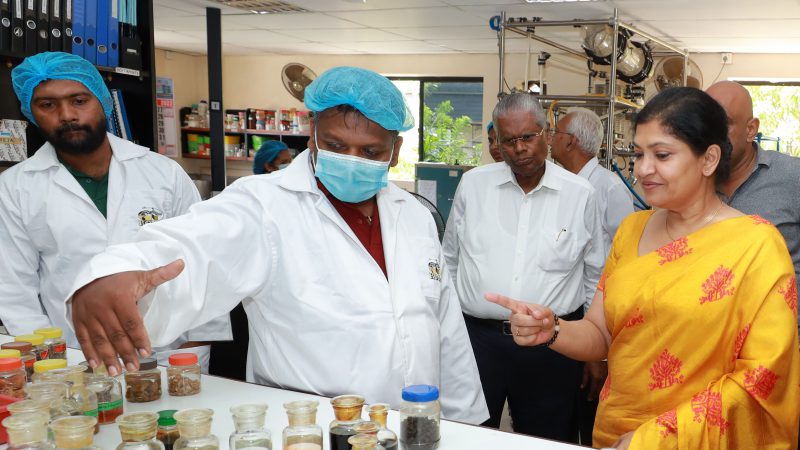 Products of HDDES further diversify BOI export basket
The HDDES Group, a Board of Investment (BOI) approved firm, that grows, manufactures, and exports organic spices, essential oils, oleoresins, tea extracts, herbs, medicinal plant extracts, dehydrates, virgin coconut oil, and coconut products, is a perfect example, that illustrates the BOI's export diversification.
A BOI team recently visited the production facility of HDDES located at the BOI Zone in Horana and witnessed how HDDES operates its production, which immensely contributes to the country's economy by dauntlessly promoting a variety of local products.
How HDDES evolved, in a nutshell
HDDES Group, which has been in existence since 1982 is dedicated to the development of natural products by manufacturing organic and conventional essential oils under the brand name of HDDES. H D De Silva founded the company, which he oversees as its Chairman. In 2003, the Group diversified its portfolio and invested in the latest technology to introduce floral and herbal extracts to the export market under HDDES Extracts.
The Group has also been recognised at the Presidential Export Awards and has received the best exporter award in 2019-2020 and 2020-2021.
Nature of the products
Basically, its priorities are to produce organic but both products are available in the market, organic and as well as conventional products. HDDES farms are 100 percent organic certified under the new concept.
 Targeted markets
HDDES has captured a wide- ranging market portfolio in western and eastern Europe, the Middle East, Australia, Africa, North, Central, South America, East Asia, Southeast Asia, and South Asia. In addition, HDDES has its owned brand "Classic", "AURA" and "D'las" to cater retail consumer market.
What BOI has to say
Speaking about the factory,  BOI Director General Renuka M Weerakone expressed "The BOI, which contributes 65 percent to national exports, is of the viewpoint that developing countries like Sri Lanka should diversify their exports while promoting non-traditional products as it enables to explore new avenues of earning foreign currencies,"  
 "That's why, the BOI has always encouraged and promoted individuals and firms like HDDES that diversify export products in addition to established sectors such as apparel, rubber and other manufacturing based products. 
HDDES Group Chairman's message
HDDES Group Chairman Mr H. D. De Silva stated "My view is to utilize as much as possible trade agreements to import, process and re-export agricultural products while ensuring much needed foreign income earnings to the country at this crucial stage,"
"Thus, I humbly request all relevant authorities to positively absorb this proposition and implement straight forward decisions to eliminate all barriers and bottlenecks for all export industries. I believe this will pave the way to generate foreign income to the Island," he pointed out.