Sea Horse Yachts signs up for $ 58 m investment deal with BOI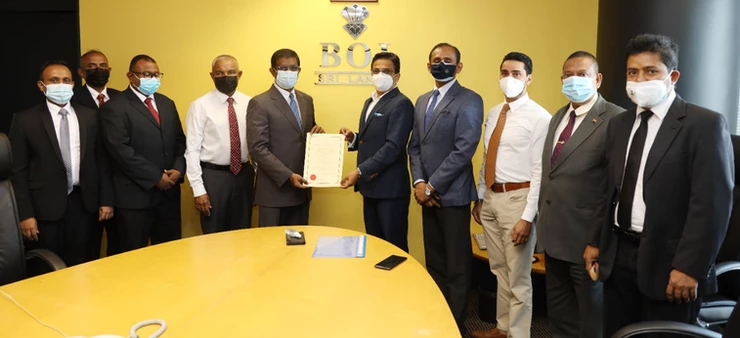 Operations set to commence by early 2022 at Hambantota International Port
Confirmed orders already in place for market value of over $ 100 m
Maldives' Sea Horse Yachts Ltd., (SHY) will invest $ 58 million (Rs. 11.5 billion) to set up and operate a state-of-the-art yacht building facility at the Hambantota International Port Group (HIPG) premises. 

Production is set to commence by early 2022 and the project will generate over 500 direct and indirect employment opportunities. 

The newly incorporated SHY is a premium luxury yacht manufacturer and will be managed by a highly experienced team of experts from Sri Lanka, in corporation with British, European, and South African innovators and designers. 

Board of Investment (BOI) Chairman Sanjaya Mohottala said: "We are sincerely delighted to welcome Sea Horse Yachts as a BOI approved company. As we introduce yet another progressive partnership to the investment portfolio of the country, we are confident that they will add significant value to the BOI's strategic mission to lead the orchestration in attracting market transforming FDI. 

"As SHY progresses to add economic value to Sri Lanka, we have every reason to believe that the company will also deliver significant value to the larger ecosystem as a generator of employment opportunities. Equally, as the company has a rich network of expertise gathered through its international network, we are confident that it will provide local talent with a competitively advantageous opportunity to gather and enhance their skills in premium luxury yacht manufacturing."  

SHY President Ali Hussain Didi said: "Sri Lanka is uniquely positioned for this ambitious venture with its strategic geographic location, which enables optimal connection to global shipping routes, and allows for ease in shipping and resourcing. We wish to thank BOI Sri Lanka for all the assistance rendered and for all the incentives SHY has been able to secure and the competitive advantage that has accrued as a result of this close working relationship."

As SHY commences its new journey in Sri Lanka, Sea Limousine, a private company in Maldives, has already confirmed an order with SHY for nine units of 30 m luxury high speed ferries and 20 units of 14 m luxury high speed feeder yachts, which totals a combined market value of over $ 100 million. SHY is also in negotiations with Brythonic Yachts – UK to assemble 4×45 m and 2×120 m super and mega yachts respectively.